☀️Everyday in July and August many activities are included in your ticket entrance. 
Opening of oysters
Learn everything about the consumption and how to keep the oysters fresh.
Moreover, you will know how to open them without hurting yourself
Monday - Friday :
11:30am and 11:50am (20 min)
03:45pm et 04:15pm (30 min)
05:50pm (20 min)
06:10pm (10min)
Week-end :
11:30am and 11:50am (20 min)
03:45pm and 04:15pm (30 min)
06:10pm (15 min)
Farming and maturing
Presentation of how do we breed oysters and the different steps of farming. Presentation of the area of Marennes Oléron : How do we refine them and some talks about the flora.
Monday : Funny guided visit* (in French)
02:30pm (1h)
03:45pm (1h)
5pm (1h)
Tuesday - Friday :
02:45pm (45min)
03:45pm (1h)
5pm (1h)
Week-end :
Hot oysters
In the kitchen, the Chef shows you how to cook hot oysters. You will benefit from some advices and then taste it !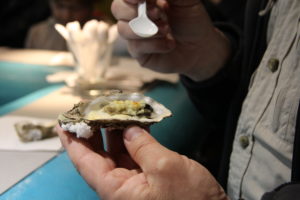 Monday - Sunday :
4pm (15 min)
4:30pm (15 min)
5pm (15 min)
05:30pm (15 min)
*Every Monday 2:30pm, 3:45pm or 5pm : Funny visit with the local humorist Bilout. Discovering of the profession.
Every Thursday : Visit in English. Meet at the summer ticket office (big parking lot) at 2:30pm. The organiser will take you to the Cabane des Claires at 3pm, then go straight forward to the Cité de l'Huître to enjoy a hot oyster and follow an introduction to the opening of oysters. Finish at 5pm.

All guided visits are included in the entrance ticket.
THE OSTRÉALES, CHILDREN PROGRAMME 👫
Monday and Friday
I, young oyster farmer
02:30pm and 3pm
Let's get transported in the world of the oyster farmers ! Activity for children who will manipulate the real material of an oyster farmer. They will understand what's happen for the oyster from the birth to the maturation in the marsh.
Tuesday and Thursday
Flora from the marsh - Land Art
02:30pm and 3pm
Discovering of the plants from the marsh and then, creation of postcards with the plants collected in the marsh.
Wednesday
Strange animal– The shells
02:30pm and 3pm
Discovering of the biology of the oyster, its life and anatomy. What are the roles of the bivalves, the mechanism of its feeding, its breathing and the reproduction. What do the oyster eat and which predators eat it ?
From Monday to Friday
Catch the crabs
05:15pm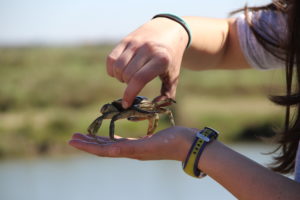 You will learn how to catch the crabs, its anatomy and its way of life. We will put it back to the water just  after the observation.